Introduction: The Bears have been getting rave reviews from both national and local media alike regarding their 2018 draft class. All of the draft media loved it. Dane Brugler, The crew over at CBS, The NDT scouting guys, PFF, Matt Miller and the Stick to football podcast crew, Josh Norris and the Rotoworld guys, Sports Illustrated, Sporting News, Bleacher Report, Yahoo Sports, The Athletic, Matt Bowen, the ESPN and NFL Network crew and on and on all gushing and giving rave reviews about the Bears draft. Even the hard to convince jaded Bears fandom seem to be on board. The Bears took the high upside athletes while at the same time both filling needs and getting ready to play now guys. Here's the RAS (Relative Athletic Score) of the Bears draft class. Pretty impressive stuff.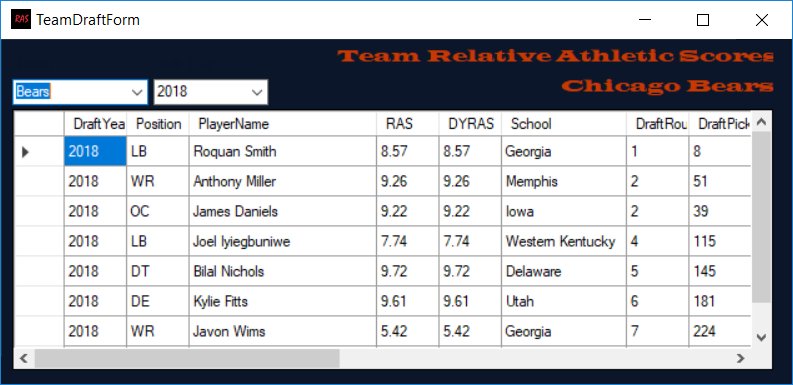 The Bears are beginning to stack up young exciting talent and thus building that coveted depth to be able to sustain a winning record during a rash of injuries to the team and carry a roster full of reserves who can star on special teams. I am extremely happy with the draft but part of this piece is opinion based and I will critique where I see fit. I will be going round by round and looking at the players the Bears passed up in favor of the ones they got. I'll be examining whether they maxed value, but that does not mean I didn't like the pick Just that I liked other possible picks perhaps a little bit more.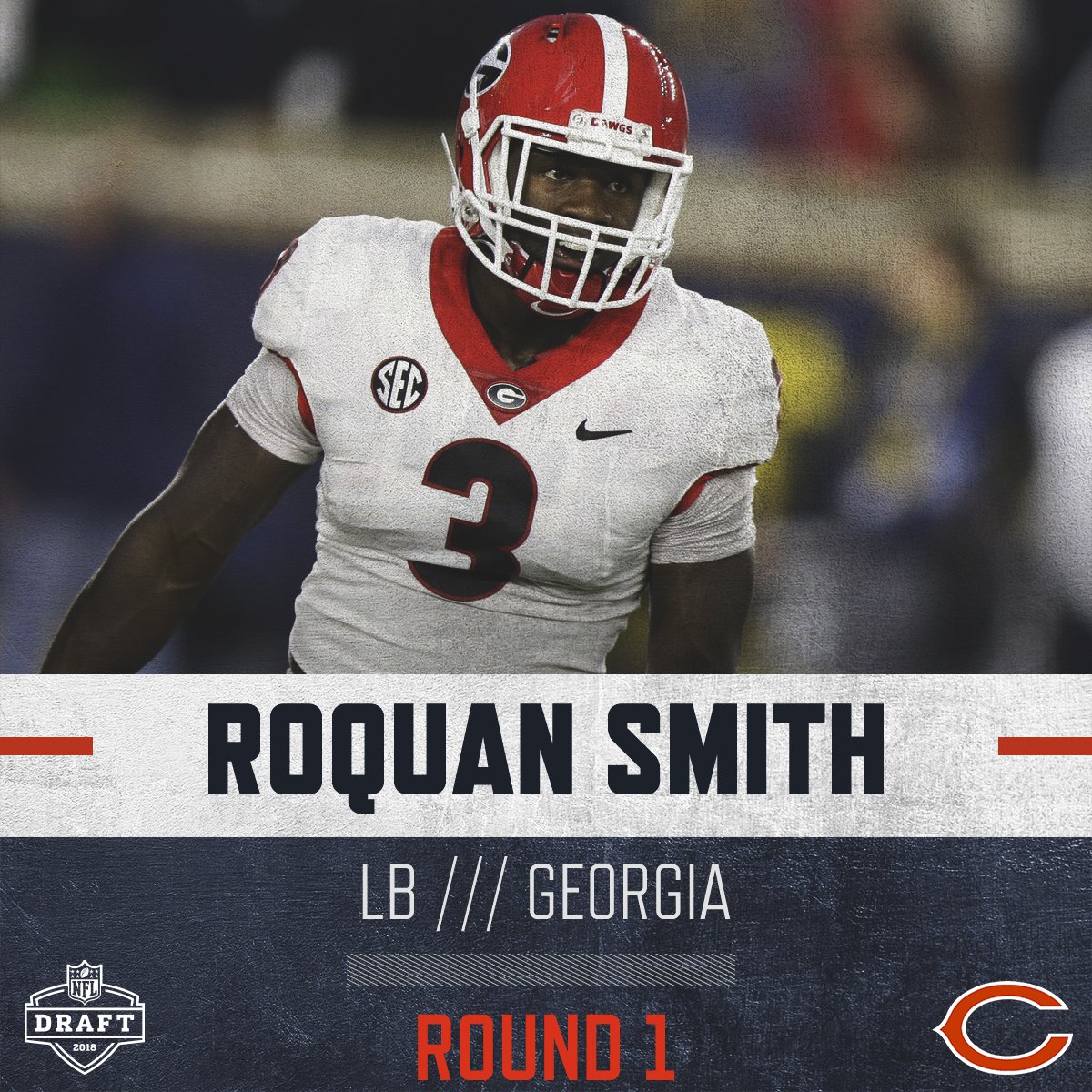 ---
---
Pick 8/Round 1 – Roquan Smith – LB – Alabama – (Grade A): Love the pick! Hard to argue with getting the SEC Defensive player of the year. I wanted an edge rusher and advocated for Harold Landry who went in the second Round where the Bears passed on him once again. So value-wise I was way off. Clearly, the Bears didn't really like him. I still would have made the pick, but My vision of defense is different from that of Vic Fangio's. Stepping back and looking at it through the Lens of the Bears camera eye it makes complete sense.
This seems like a Fangio pick. My guess is when the Bears went through all their information on these prospects the consensus was to go with defense. I think if Bradley Chubb had fallen it's possible that would have been the pick, but Fangio definitely wants his Inside Linebacker position solidified. It's vital to his scheme. Not that he is unhappy with Danny Trevathan and Nick Kwiatkoski but they were both injured last season and Trevathan has had injury issues his entire career. As much as I like Kwiatkoski Smith is a definite upgrade. Now you push a starter down the rung and your depth is beyond solid at Inside Linebacker.
Smith is a quick processor. It took him no time to figure out the option fake and pitch on an option jet sweep in the video below. Not at any point did he even come close to falling for the play fake to the halfback or even consider the Quarterback as a runner in the equation. He Beats the blocker to the spot and is one on one in the open field with the runner and drops him cold.
In this cutup highlight video, you see everything this kid is all about and why he is a Chicago Bear. First play, you see him weeding through the trash and getting to the ball carrier while breaking down and using his big strong hands to corral the runner for a TFL.  The next two plays you see Smith executing a delayed blitz. One through the B gap kind of sneaking around the linemen for the sack. On the second clip Smith see's his coverage assignment stay home in protection and he jets through the A gap and puts a tremendous pop on the Quarterback. There are also cuts of his sideline to sideline speed and the very last play he covers a Wide Receiver in the End Zone and knocks the pass away showing his excellent coverage ability and keen ball skills.
Here you see more of the same thing. He eats up space between him and the man he's got his sights set on quickly, and even with a quick cut by the Quarterback which leaves him out of position he still gets the guy down at the point of contact showing his sure-handed tackling. The second play he just makes a quick cut out of the congestion inside and runs down the Quarterback for a loss. The third play he destroys a Wide receiver on a crossing route for a short gain and on the last play another delayed A gap blitz for a sack. You can see why the Bears drafted him for Fangio. Fits his scheme like a glove. Smith is his new Patrick Willis.
---
---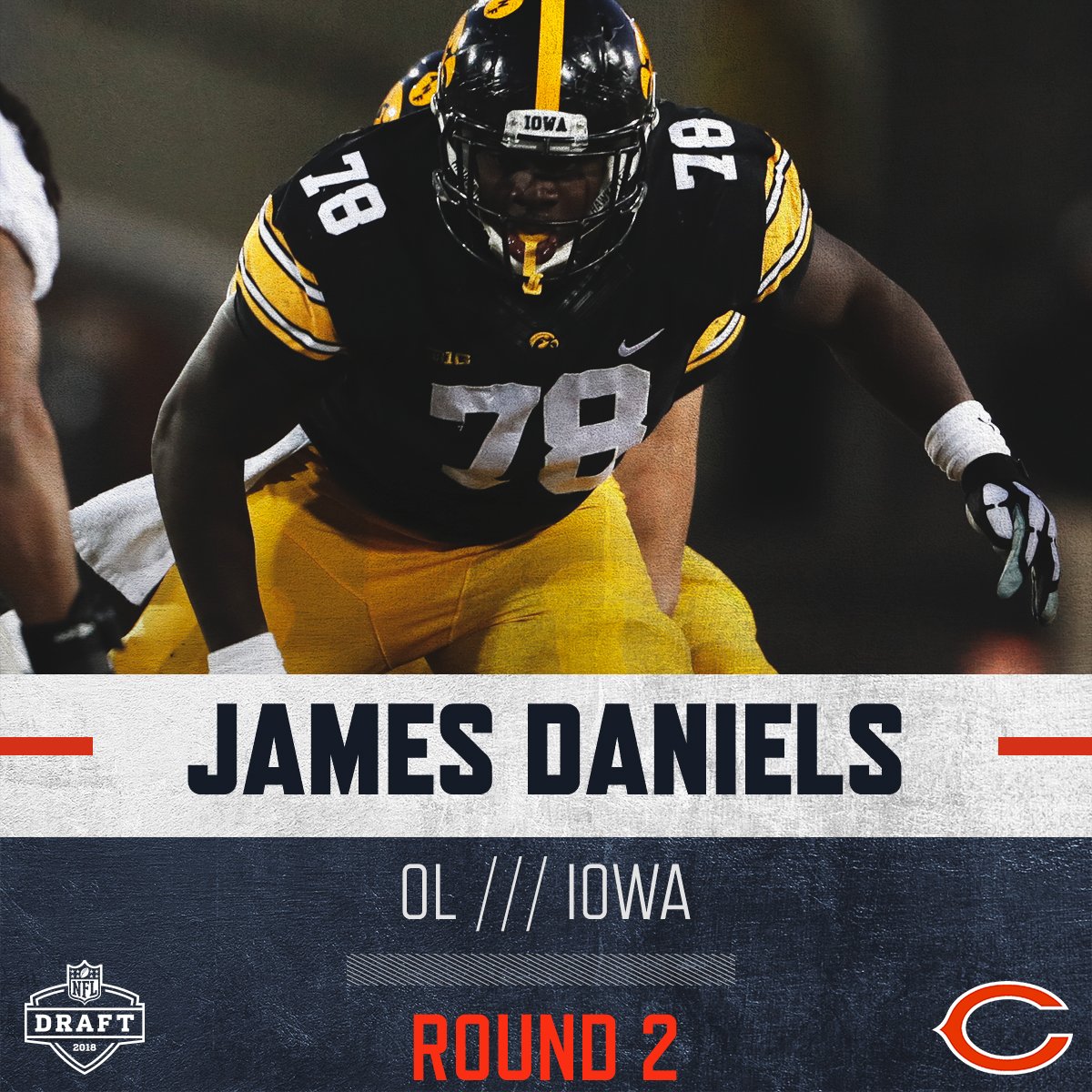 Pick39/Round 2 – James Daniels – OG – Iowa – (Grade B): The Bears Arguably got the best center in the draft in the second round where most had him with a first round grade so they get great value here. I do love the pick but once again I wanted Landry here who I think is the bigger impact player and the bigger team need as well. It's why my grade is only a B and not an A. However when you look at the grand scope of it this makes the Bears running game extremely formidable. He was the best zone center in the draft.
In spite of what Ryan Pace said in his day 2 presser I have to believe Daniels will be the starting Center and Cody Whitehair will move out to Left Guard or maybe even Right Tackle if Jordan Morgan looks ready this season. I do see the possibility that Whitehair's permanent position will eventually be at Right Tackle taking over for Bobbie Massie maybe as early as this season but certainly next season. Next year's draft is supposed to be deep and talented at Offensive Tackle so even that plan may change but at current Whitehair is the logical move to Right Tackle of all the interior linemen currently on the roster. Of course, this may also be Kyle Long's final season with the team if he continues to sustain injuries and his play falls off the edge and that opens up another spot. This pick makes the Bears one of if not the most athletic Offensive Lines in the NFL.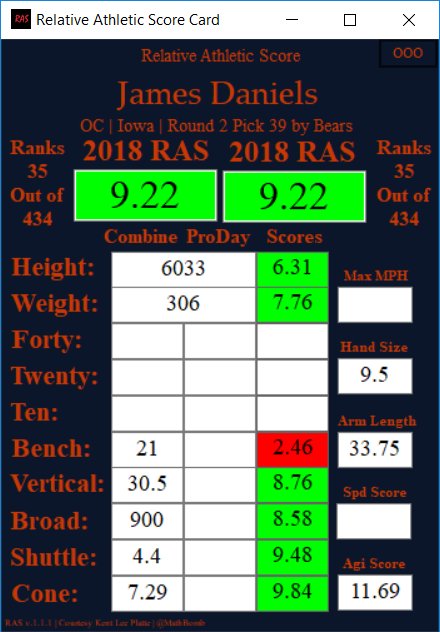 Here you see an example of his athleticism. This is why he fits perfectly in this zone scheme. He executes this signature zone based combo block with cat-like quickness and precision. Takes on the interior lineman with the right guard knocking him back an gets off him while the Right Guard continues to block the lineman and gets out to the second level where he lays a hat on a Linebacker in the open field.
Daniels is mostly known for his crazy size to speed athleticism but here he shows you he can get physical as well as he drive blocks his man to the ground and completely out of the play.
---

---

Pick 51/Round 2 – Anthony Miller – WR – Memphis – (Grade A): Miller is another player one can easily argue is the best at his position. In this case as a Slot Receiver. Hell, perhaps Wide Receiver period when all is said and done. Especially if he does turn out to be the player he and many others compare him to, Steve Smith. Wouldn't that be nice? I ain't talking about the New York Giants version either.

To show you the confidence he has he also comped himself to Antonio Brown. Wouldn't that be a nice hybrid mix? Miller has the same edge as Steve Smith. Plays with top competitiveness and fury on the field and a humanitarian off it. The perfect football prospect I guess you'd say.

The Bears had to trade into the 2nd round to get him and paid a relatively moderate price for him. Especially if he pans out to be in fact the next Steve Smith. Miller is smart and competitive. As you can see from the PFF stat above he maximizes his catches with skillful runs after the catch. He'll go up and get it too as evidenced by his 39″ vertical in spite of his being only 5'11". He also uses huge strong hands to secure throws in traffic. Not afraid to take a hit.

People most associate Miller with being that underneath guy who gets the dirty yards and getting YAC (Yards After Catch), and rightfully so as he's all that and more. Here he shows you some of that more part. You see his quickness off the line as he squares up with the press corner and makes a quick cut to the outside running a go route in the right flat. You see him use his giant mitts to slap whatever attempt at a jam the corner unsuccessfully tries to put on him. Once past the line of scrimmage and into his route, you see his speed, tracking, and ball skills as he gets ahead of the corner who does a good job staying with him in trail technique and contests the pass but Miller hauls it in for six!
On this play, you see his athleticism and concentration as he executes a corner route with a jab step inside and ends with a back shoulder catch for six in spite of good coverage by the cornerback.
Here, he shows you his hands or should I say hand as he catches this low throw with one hand like he was catching a league ball with a mitt all while maintaining his stride and getting a few yards after the catch.
On this play, he shows you that YAC ability I was mentioning earlier. He also shows you his toughness and shiftiness wading through the trash and breaking a tackle or two along the way while maintaining his balance with one hand on the ground and diving into the End Zone for six! He is also a Touchdown machine with 40 in his Memphis career and shows his nose for the goal line here.
---
---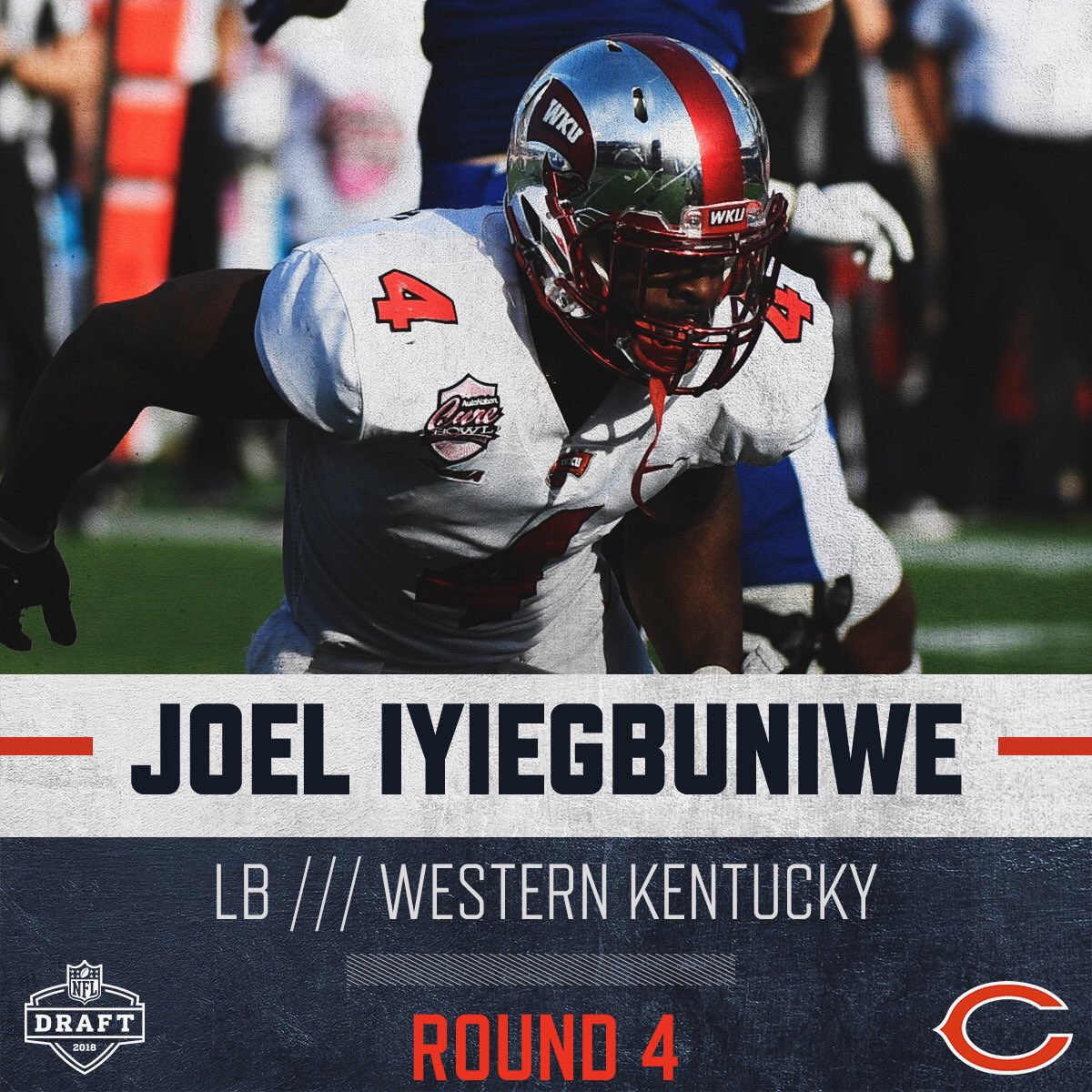 115th Pick/Round 4 – Joel Iyiebuniwe – Inside Linebacker – Western Kentucky – (Grade B): On the surface, this was a good pick for a good player with great physical traits. However, my issue is with what they passed on at that spot which includes the 3 players they picked after Iyiegbuniwe. Now, he could go on to have a great career, and make Pro Bowls, and help win postseason games with great plays, and be a Bears legend, and hero and that'll make me look stupid, and hopefully it does, but I can't let the fact the value here didn't fit the round in my opinion.
I have to give you full disclosure. I have zero knowledge about Iyiebuniwe other than from what I've read and seen on TV or heard on the radio from other peoples evaluations of him. So, I would only be able to give you second-hand knowledge which I would suggest that you to go to the original source instead. However here is the one highlight video I've watched of him and from what I see his skill set is very similar to the Bear first overall pick Roquan Smith. I'm not saying he'll be as good, but his skill set seems to match that of Smith's. He goes sideline to sideline, he seems to make quick reads and gets to his spot quick and with purpose, is a good form tackler, and seems to be able to stay with most Running Backs and Tight Ends.
---
---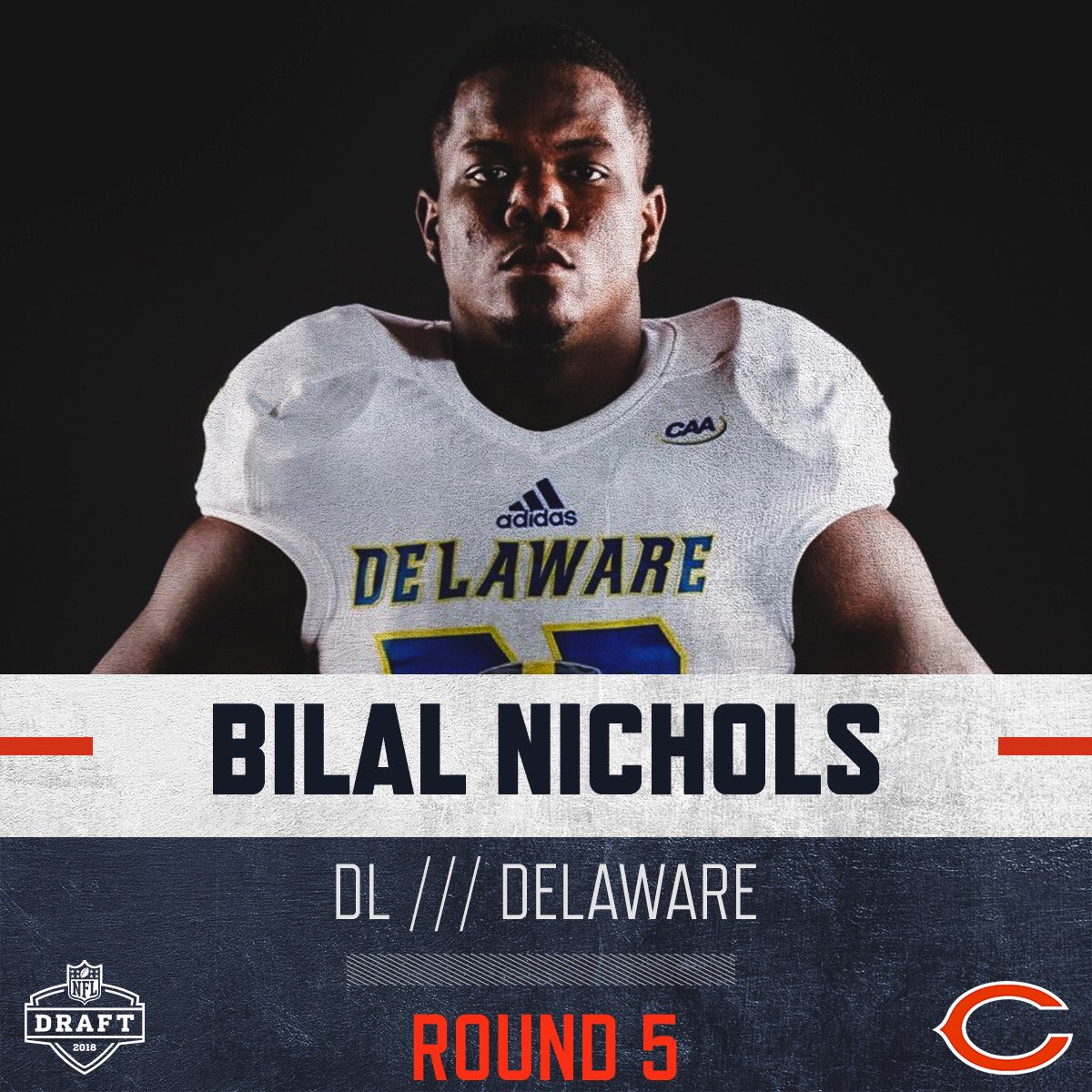 145th Pick/Round 5 – Bilal Nichols – Defensive Lineman – Delaware – (Grade B):  There were a few guys on the board i thought would be better value picks like Tyrell Crosby, Ogbonnia Okoronkwo, Daurice Fountaine, and Marquez Valdes-Scantling. That said, I really like the pick. The players I did have ahead of them weren't terribly higher and this kid can actually be a better player then all of them. He is strong (29 reps on the bench press) and fast (4.95 40 at 6′ 4″ 306 lbs.) and athletic as you can see from the video highlights below. He played NT and DT at the Senior Bowl and held up well at both spots so he can easily fill in at all three interior Defensive Lineman spots in any situation as he has the skill set to set the edge on the run, hold his position up the middle when he plays zero technique sealing both A gaps nose up on the center, or as a gap penetrating 3 technique when Fangio goes to his under front and also play the zero shade tackle spot in the same under front. So he brings the multiple toolsets this franchise covets from their players on the Defensive Line.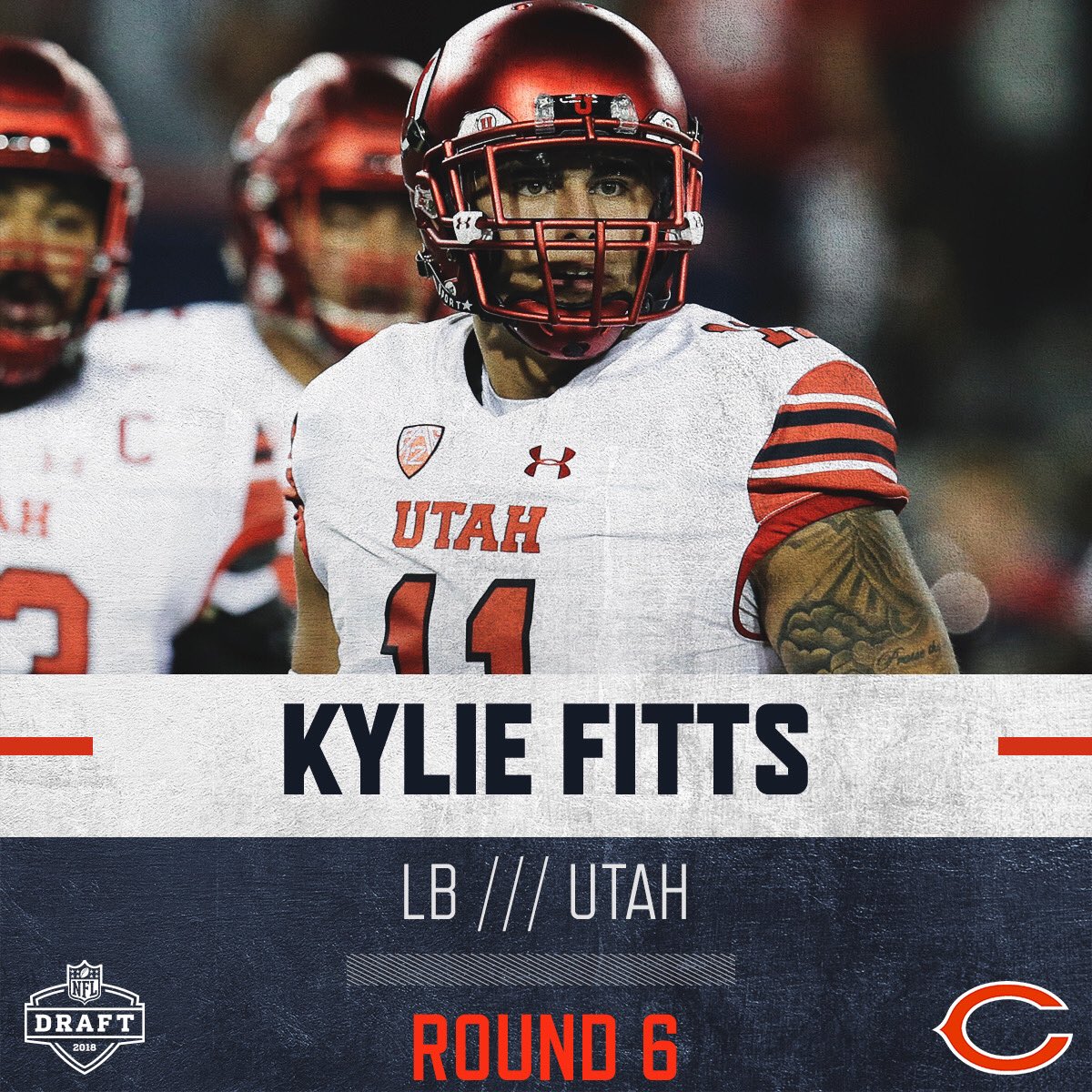 Fitts won't be a high snap guy this season although I do think you can use him instantly as a package edge rusher. This move is more for the future. His athleticism fits the Edge Defender profile for a 3-4 OLB. He ran the best 3-cone at the combine along with Harold Landry. It gives an indication of how a player plays in space by measuring change of direction, explosiveness, and overall athleticism, and determines their ability to bend the Edge. Edge defenders that time that high are almost a lock to be successful pass rushers at the next level. The average time for OLB's is 7.1 so he is well above average with that time. It doesn't guarantee success, but almost every top pass rusher in the NFL have elite 3-cone times even if other drills are below average like 40 times and verticals etc. That's a percentage that's hard to bet against.
Fitts was less productive the last two season due to injury (which is probably why he fell so far), but even when not being at his best getting after the Quarterback he can still make an impact as evidenced by him batting 9 balls at the line of scrimmage in 2015 which led the NCAA that season. He played only 9 games in 16′ – 17′ but in 2015 he played in 12 games and had 7 sacks and 40 tackles with 7 for a loss as a Sophmore playing in a rotation on a snaps limit after he transferred over from UCLA. In the 9 games he did play in the last two seasons he did have 6 sacks and 31 tackles with 6 of them tallying for a loss.
Below you'll see the explosion and athleticism that make him a good bet to succeed at the next level as a top pass rusher in the league. You also see how unrefined he is and that likely has as much to do with how little he's played and practiced the last two seasons. He's going to need time and patience but the foundation is there to build a formidable pass rusher.
---
---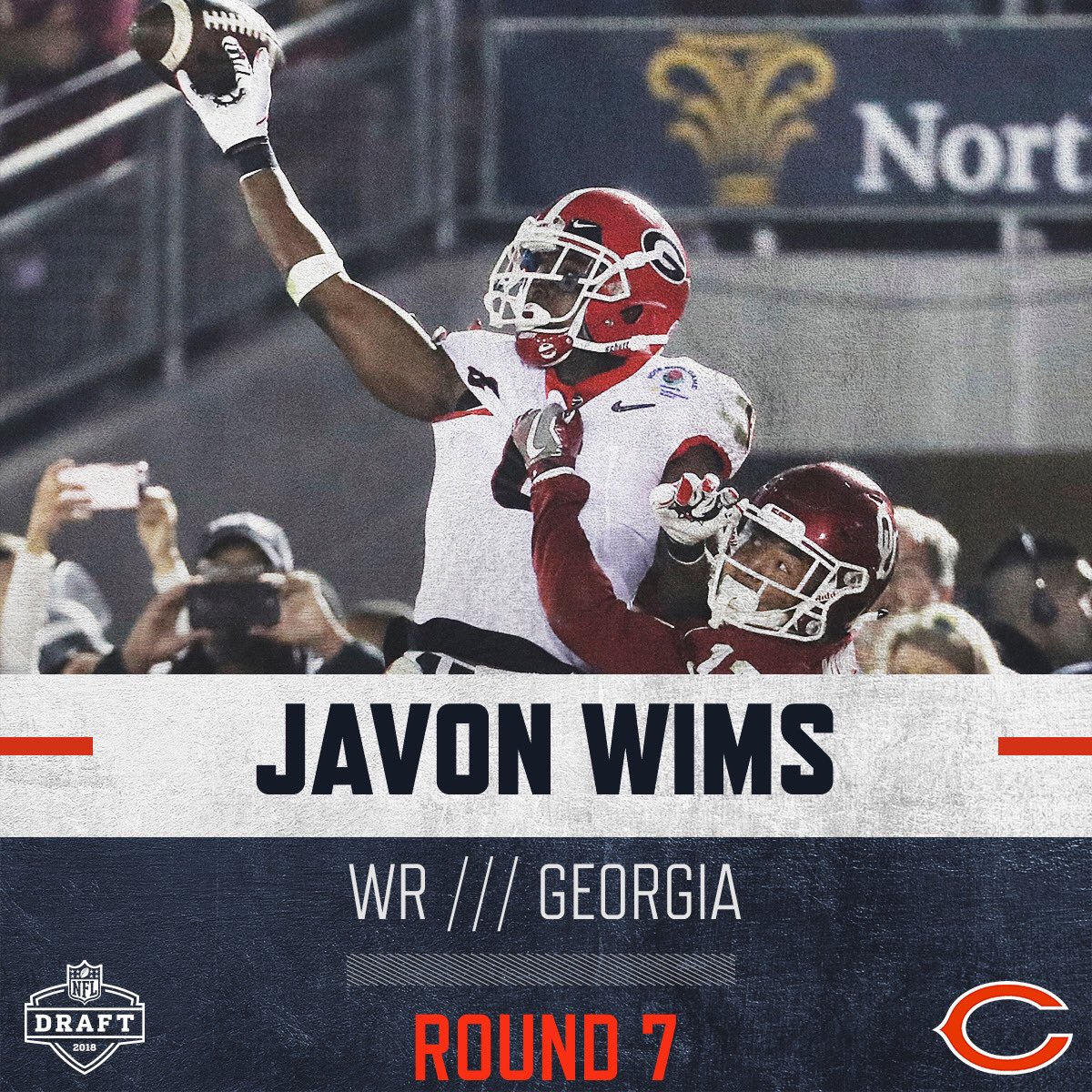 224th pick/Round 7 – Javon Wims – Wide Receiver – Georgia – Grade 7: If not for this pick the Nichols pick would've been a C- instead of a B- and the Iyiebuniwe pick would have been a possible D because of all the Wide Receivers they would have passed up. To get Wims at this pick may be the Bears best value pick in this entire class. Not best player ultimately when all their careers are over, but their best value pick. On this team, he may never be more than the Bears 4th or 5th Wide Receiver but in my opinion, Wims has a ceiling of a legitimate number 2. He has some things to refine in his game, but the ability is there. A lot of people have questioned his long speed but he actually ran his 40 a full tenth of a second faster than his now current teammate Allen Robinson.
Wims is generally a newcomer to the position. His age isn't young for a rookie (23 in August) but playing wise he's much younger and has a ton of upside and things to learn. A two-time Juco transfer he was pursuing a basketball career until he committed to Football in his senior season in high school and ultimately made his way onto Georgia's roster and was the leading receiver on the 2017 Georgia National Champions. Quite a story. On this staff, it will be Mike Furrey's job to help develop him and he should be better at all the things he is weak at now.
Where he is strong at you can't teach. Watching his highlight video is a delight. It would be hard to find a more acrobatic Receiver on any highlight reel including guys in the pros. He can go up and get the ball and wins a high percentage of 50/50 balls. He does catch the ball naturally plucking it out away from his frame and minimizing drops that could bounce off his pads and in the air and with it harms way.
He also runs with the ball very well forcing 10 missed tackles out of 46 receptions according to PFF's tracking of this stat. On this team that is a skill set that is very important with a ton of catch and run concepts built into the Route schemes. Below you'll see a tweet and his highlight video that shows a player who is competitive in the air and once he catches it with the Run after the Catch. A Receiver who can make spectacular aerial catches in traffic and along the sidelines who needs to refine and expand his route running and tree. He also needs to learn the concepts needed to make sight adjustments to get more snaps to be able to execute the option routes the Bears run in this offense.
Javon Wims caught 55% of his deep targets this year (20+ yards in air), the 16th-best deep catch rate among FBS wide receivers